Gluten-Free Cheese Crackers
I don't recall the very first time I had a cheese straw. My suspicion — it was somewhere circa 1997 or so… when bridal teas and wedding showers were quickly becoming a "thing" I did on the regular.
Where today's brides have Pinterest and hashtags, the Southern contingent of betrothed beauties had cheese straws.
We also had petit fours, finger sandwiches and sherbet punch. But all I really ever wanted were the cheese straws. 
As a young bride, I found myself working to perfect the cheese straw in my own kitchen… getting the dough to just the right temperature, finding the best cheese for the job, working on the perfect amount of spice to give a bit of a "bite" without too much of a kick. I would — during the holidays — embark on this labor of love to create tins and tins of the stuff to share with family and friends… and most especially, to share with my fellow cheese straw lover, my husband.
What God hath brought together, let no bad cheese straw put asunder.
But over the years as we realized that gluten and my husband aren't a match made in heaven, I let go of cheese straw making.
(And apparently, I also let go of an integral piece to my cookie press. Hence the reason you see before you Cheese Crackers, not straws. This dough would work just as well piped/pressed out into straws. But without a working cookie press, cookies are the best option.)
So when this month's Recipe ReDux rolled around and we challenged members to re-create a favorite crunchy snack, I decided it was time to update this beloved Southern staple and make them gluten free.
The results were UH-MAZING. 
Seriously.
My husband's response to tasting them was "These may be the best things you've made in years."
Who knows if that's just the absence talking of not having had a cheese straw in so many years… or the wisdom that comes with nearly 20 years of marriage. Telling your wife something like that ensures you will definitely get another batch and another and another.
Print
Gluten-Free Cheese Crackers
Author:
Yield:

Makes 3 dozen
Ingredients
8 ounces high-quality cheddar cheese 6 tablespoons high-quality butter (not margarine), at room temperature 1 cup (140 g) gluten free all-purpose baking mix (I used Pamela's) 1/2 (60 g) cup arrowroot 3/4 teaspoon salt (or to taste) 1 teaspoon chili powder 1/4 teaspoon ground red pepper 1/4 teaspoon garlic powder 1/2 teaspoon sriracha 1 to 2 tablespoons water (optional)
Instructions
Preheat oven to 325 degrees.
Shred your cheese; allow to come to room temperature (This is important. Really cold cheese/dough is HARD to press out even in a good cookie press).
Cream cheese with butter (I use my heavy-duty stand mixer for all of this).
Combine flour, salt & seasonings. Beat flour mixture into cheese mixture, 1/2 cup at a time, until well combined. Beat in sriracha and water. (Note: When I used to make these in FL, there was plenty of moisture in the air and I usually didn't add much water. When I lived in TX, I'd have to add 1 tablespoon of water or more to get the dough smooth enough to press out with my cookie press. Humidity clearly makes a difference. Also, if your kitchen is cold/cool, you might have to microwave the dough just a LITTLE bit… don't want the butter/cheese to melt, but you need it warm enough to be able to press it out through the cookie press.)
For Cheese Straws: Press dough out into straws on baking sheets using a cookie press fitted with star tip (Note: This is up for debate. There is contingent of the cheese straw community that believes they should be piped out in a flat disc-like pattern. More disclosure: I'm a star-tip devotee.)
For Cheese Crackers: Form dough into tablespoon size balls, press out onto cookie sheet, press flat with palm of hand and use a fork to make a criss-cross pattern on the top of the cracker.
Bake at 325 for 10-15 or until just barely lightly browned on the bottom (12 minutes seems to be the magic number for me).
For the crispiest straws/crackers, turn oven off and allow to cool slightly; put all the straws or crackers back in a warm oven to "dry out" (much like curing shortbread. I typically do this overnight.) The flavor won't change, but they'll taste crisper to start with and stay crisp much longer.
To see what other ReDux members are serving up this month, click over to the ReDux site here: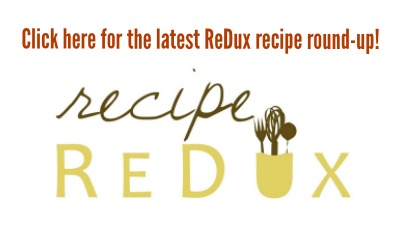 © This Unmillennial Life ® by Regan Jones. All images & content on this site are copyright protected. Please do not use my images or content without my permission.