Simple Gluten-Free Chocolate Chip Cookies (with Prunes)
You may have a hard time believing this but my kids LOVE prunes.
Like, love to eat them so much I have to put a limit on how many they're allowed to eat.
In fact, one of their favorite "desserts" is actually prunes with peanut butter.
(In case any of you were thinking the fact that I take my kids for donuts on Fridays means I'm playing loose with healthy eating, I assure you these kids aren't getting a bunch of donuts for desserts each night… as illustrated by my previous sentence.)
Getting pats on the back from my kids for offering up prunes and peanut butter as a dessert is really enough as an RD-mom to keep me happy. But sometimes I like to gild the lily. You know, go the extra mile.
And by extra mile I mean put prunes in chocolate chip cookies.
This month's Recipe ReDux theme is all about getting kids in the kitchen — by either cooking with them OR sharing a favorite childhood recipe memory. I'm not *exactly* following orders, but I promise I have a reason (or two) why.
First, I'm really focused right now on my kids doing chores — listen to this recent episode of the podcast to learn more. With this focus, I'm also letting go of asking them to do other stuff they're not all that interested in. And right now, that thing they're not interested in is cooking. At times, they enjoy it. But right now? Not so much. So let's just agree that having kids in the kitchen unloading the dishwasher is meeting the spirit of this challenge.
Second, my favorite childhood recipe is one I talked about AGES ago when I had The Professional Palate. Who here remembers that gem of a little site? My earliest memory of a recipe was a dried plum cake I made with my Mawmaw Ween. It used dried plum baby food or prune baby food… whatever it was called in the 80s. I don't recall a lot about the recipe other than the prune/plum inclusion. So, I used prunes in this recipe today as a modern-day celebration of a recipe I enjoyed long ago.
I guess it just goes to show you that even a love of prunes can be passed down through generations.
Print
Gluten Free Chocolate Chip Prune Cookies
Author:
Yield:

3

dozen cookies

1

x
2/3 cup

butter, at room temperature

1/2 cup

plus 2 tablespoons brown sugar

1/2 cup

Swerve granulated, brown

1

large egg

1/2 tablespoon

vanilla extract

1 1/2 cups

gluten free all purpose flour

1/4 teaspoon

xantham gum (optional)

3/4 teaspoon

baking powder

3/4 teaspoon

baking soda

1/2 teaspoon

salt

1 cup

Lily's sugar-free chocolate chips

3/4 cup

chopped dried plums

3/4 cup

chopped pecans
Instructions
Preheat oven to 400 degrees F.
Beat butter, Swerve and brown sugar in a stand mixer at medium speed until fluffy (about 3 minutes). Beat in egg and vanilla.
Whisk together flour, xantham gum, baking powder, baking soda, and salt. Gradually add to butter mixture and beat just until combined. Beat in remaining ingredients.
Scoop dough out by heaping tablespoons onto parchment or Silpat-lined baking sheet. Press flat gently with hand.
Bake in batches until edges begin to brown and centers begin to set (about 10 minutes). Let cool on pan 5 minutes; remove to wire rack and let cool completely.
***
To see what other Recipe ReDux members are serving up for this month's challenge, click through below!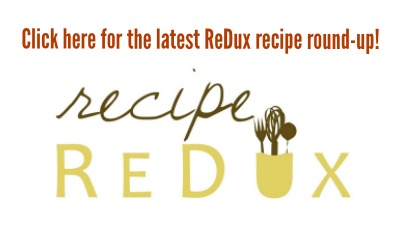 © This Unmillennial Life ® by Regan Jones. All images & content on this site are copyright protected. Please do not use my images or content without my permission.